The Emojli app doesn't let words get in the way of chatting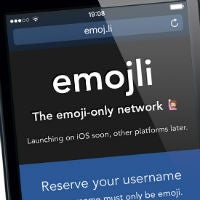 Depending on your age group and friends, you may be under the impression that words are a dying form of communication. There are plenty of ways to communicate with one another through pictures, video, or good old emoji, and now Emojli wants to take that last option to a bit of an extreme by only allowing emoji in chats.
The entire social network will be emoticons-only. This means your username will be a string of emoji and all communications will be emoji-only. The idea is to eliminate spam, trolls, and hashtags, but we're not so sure trolls can be killed off that easily. On one hand, this idea sounds pretty bizarre, but it also may be genius. At the very least, Emojli is a top candidate to produce some unintentionally hilarious chats. Once the new set of emoji in
Unicode 7.0
is added to mobile platforms, it will bring the total number of symbols to around 1,000, meaning you'll have plenty of options when chatting.
Emojli is will be an instant messaging app at first, but could expand from there. The app is planned for launch in late July to early August, and will be iOS-only to start, but there are plans for other platforms afterwards. If you're interested, you can head over to the Emojli website and reserve your username now.