The Commodore PET is an affordable Android Lollipop smartphone with pre-installed retro game emulators
18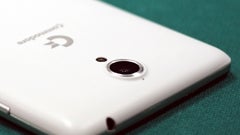 Commodore International is a now-defunct company that was famous in the 1980s for its legendary 8-bit Commodore 64 desktop PC (sold in over 10 million units). While the company itself ceased to exist back in 1994, the Commodore trademark still exists, and it now belongs to a UK-based company owned by "a pair of Italian entrepreneurs" and called Commodore Business Machines Limited. Well, this company has made an Android smartphone that's supposed be released in the near future.
Called Commodore PET, the new handset already has a website of its own, and will be available in Europe (including in Italy, France, Germany, and Poland), as well as in America. This isn't vaporware: folks from trusted publication Wired already played with a prototype of the phone, while also taking plenty of photos of it.
The Commodore PET runs a custom version of Android Lollipop, and will come with two retro game emulators pre-installed: a VICE C64 emulator, and a Uae4All2-SDL Amiga emulator. Of course, these names don't say much to most of today's smartphone users. Nevertheless, the emulators should allow those who are in love with retro games to get their fix.
Specs-wise, the Commodore PET is an upper-mid-range smartphone that sports a 5.5-inch 1080p display and is powered by a 64-bit octa-core MediaTek processor clocked at 1.7 GHz. The handset features LTE, dual SIM support, an 8 MP front-facing camera, a 13 MP rear camera, and a 3000 mAh battery. There will be a version of the phone with 2 GB of RAM and 16 GB of expandable storage space, and another one with 3 GB of RAM and 32 GB of expandable storage space. They'll be sold for around $300 and around $365, respectively, coming with free 32 GB microSD cards in the box.
It's said that the Commodore PET will have multiple color versions, including white, black, "biscuit-beige", and possibly also blue, green, and others. It's not clear exactly when the Commodore PET should be available to buy, but
soon
is a good guess. Is anyone interested in getting this new smartphone?
sources:
Commodore
,
Wired
,
Wired Italy
via
Android Central