The BlackBerry Storm 2 to arrive first then the 9700 Onyx afterwards?
This article contains unofficial information.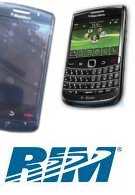 RIM's pulling out all of the stops in preparation for two devices hitting this fall – the BlackBerry Storm 2 and 9700 Bold (aka
Onyx
). Recent news may have hinted that the BlackBerry Onyx 9700, with its change to an optical trackpad, would be released earlier than the second touchscreen BlackBerry due to the OS seemingly more ready for launch day. Now it's being speculated that the Storm 2 will arrive first sometime during mid October – Vodafone might get a head start before Big Red launches it here domestically. It's assumed that Verizon will have it available roughly a week after Vodafone's launch. We'd think that RIM would want to wait and soak up as much sales as possible before releasing another handset so close. With that being said, the Bold 2 would be anticipated to come out roughly mid November – just in time for the holiday season. If everything falls through, RIM might be looking at a very busy holiday season – let the good times roll.
RIM BlackBerry Storm 2 Preliminary Specifications
RIM BlackBerry Bold 9700 Preliminary Specifications
source:
The Cool Guy Report