The BOLD Knot offers up a little extra battery juice very quickly and fits on your keychain
3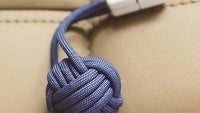 External batteries are very handy to have now-and-then. They come in all shapes and sizes, and for the most part, you could say there is something out there for everyone. Few however have the potential convenience of the BOLD Knot, a small, spherical power cell wrapped in a para-cord material that also serves as the charging cables. The whole thing is small enough to be your keychain. The cables have been optimized to charge your phone up to twice as fast when the BOLD Knot is plugged into your laptop. It does that by blocking data communication between the computer and your smartphone, and once it is done recharging your phone, it recharges itself.
The little power cell is not meant to fully recharge your iPhone or Galaxy Note, but it will give you enough juice to power through another couple hours of data usage, or a few more hours of music.
The team at Bold Gadgets started their funding campaign on IndieGoGo and it was nearly half funded in the first few hours, and is past 70% at the time of this writing. It also helps that the goal is a reasonably modest $15,000. If you want to get your own BOLD Knot, the early-bird price is $29. Once that perk is sold out, the Knot is $39. The BOLD Knot is available with either a micro-USB or Lightning plug. Shipping is free in the US and will be delivered in October.
source:
The BOLD Knot
(IndieGoGo)