The Asus ZenWatch 3 is here: slim and stylish design, round display
13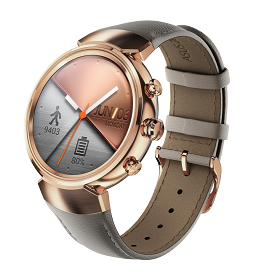 A few minutes ago at IFA 2016 in Berlin, the Asus ZenWatch 3 became official. As previous rumors and leaks have suggested, the ZenWatch 3 is the Asus smartwatch to feature a round display.

Right of the bat, the most notable thing about the Asus ZenWatch 3, at least when comparing the new smartwatch to its predecessors, is the inclusion of a round display. Previous ZenWatches used a square-like form with rounded corners. This time around, however, the pebble form factor has been replaced by a more stylish design that's inspired by the look of traditional analog timepieces. Adding to this feel are the crown and the two supersized buttons located on the right side of the watch.

The display is a 1.39 AMOLED display running at 400 by 400 pixels (circular), which is good enough for a PPI of 287. Protecting the screen is a layer of curved Corning Gorilla Glass.

The ZenWatch 3 is made from 316L stainless steel and available in three colors: Gunmetal, Silver, and Rose Gold. All three color variants come with a rose-gold bezel. From where we're standing, adding a touch of rose cold to all ZenWatch 3 color options is a bit of a risky decision on the manufacturer's part; while some love gold-colored watches, there are many watch users who wouldn't be caught dead with a gold-colored wrist piece.
The entire body of the ZenWatch 3 is less than 10mm thick (9.95mm to be precise), which is on the thin side for a smartwatch.
In terms of straps, customers get to choose between stitched Italian leather or rubber, both of which are available in either dark brown or beige.
On the software side, the ZenWatch 3 is set to run Android Wear 2.0 and comes preloaded with more than 50 watch faces. Also, the first round smartwatch from Asus comes with a new and improved ZenFit activity tracking app, one that will automatically count steps throughout the day and launch inactivity reminders. Asus says that the new ZenFit activity tracking provides 95% accuracy.

On the inside beats the heart of a Qualcomm Snapdragon Wear 2100 SoC, a chip that's specifically designed for smartwatches. The wearable also comes with with 512MB of RAM and 4GB of integrated storage, just like most modern Android Wear smartwatches.

The new ZenWatch comes with a 340mAh battery, which is pretty standard for a watch this size. The ZenWatch 3 supports the Asus Hypercharge technology, which is touted to charge the wearable from 0% to 60% in just 15 minutes. Charging is done via a magnetically attached charging connector.

In Europe, the Asus ZenWatch 3 will cost 229 EUR when it launches later this year. Unfortunately, Asus did not disclose any specific release date timeframe, but we'll get back to you as soon as this information is available.

What do you guys think of the new ZenWatch 3?
source: Asus