The Android 5.0 update rollout, Microsoft's Lumia 535, and the YouTube Music Key service: weekly news round-up
4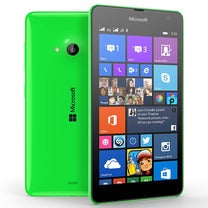 Once again, it is time for our weekly news round-up – a post where we put past week's most interesting stories for anyone who needs to catch up. And we've chosen to start with the news of Lollipop's release – the Android 5.0 update started rolling out to select Nexus devices last Wednesday. Owners of the
Motorola Moto G
and the
LG G3
are enjoying their dose of the sweet treat as well.
In other news, The
Microsoft Lumia 535
smartphone was announced on Monday, thus becoming the first Lumia phone released under the Microsoft branding, not Nokia's. Yet other than that, there's nothing too special about this new Windows Phone model. It is but an entry-level handset with a reasonable price tag.
In the meantime, Google announced YouTube Music Key – a premium service dedicated to music lovers. For less than $10 per month, subscribers get to enjoy offline music, full albums, and ad-free music playback on their computers and mobile devices.
For more on last week's most interesting stories, flip through the slideshow below!