The $99.95 Gamevice is a Lightning-equipped gaming controller built for the iPhone 6 and 6S series
9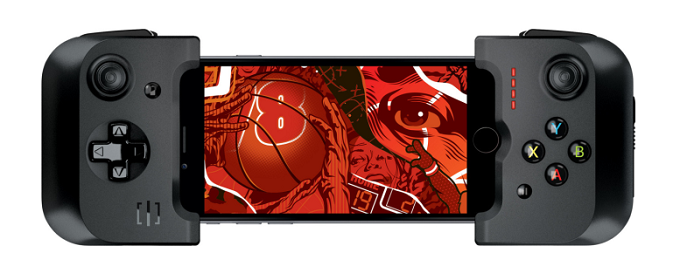 In a time when most iPhone game controllers connect through Bluetooth in an attempt to maintain both backwards and forward compatibility, Apple's online and physical stores are now offering a Lightning-equipped gamepad. Called the Gamevice, the $99.95 clamshell controller is compatible with the 4.7-inch
iPhone 6
and 6S as well as the 5.5-inch
iPhone 6 Plus
and
iPhone 6S Plus
, all in the same model.
As far as the button layout is concerned, the Gamevice resembles any typical modern controller: a joystick on each side, a D-Pad on the left, four buttons on the right, as well as trigger and bumper buttons on both sides. That's the standard configuration in modern games, and it's also what all iOS games with native controller support use.
Other features of the Gamevice include a collapsible design that's perfect when you're on the go, a 400mAh battery, four LED battery level indicators, a microUSB port for charging purposes, and a 3.5mm headphone jack.
Both the specs and the design are fairly impressive, but at $99.95, the Gamevice is also one of the most expensive iPhone controllers currently available on the market. The manufacturer is also offering a similar controller for the iPad mini, while an iPad Air model is scheduled for the upcoming months.
What do you guys think of the Gamevice? Would you be willing to purchase a Lightning-equipped gaming controller and risk losing compatibility when Apple gets around to upgrading to another data standard and another port?