The 10 best phones to expect in the second half of 2015
69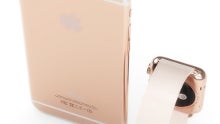 We've wrapped up most major phone announcements for the first half of the year, with Samsung's
Galaxy S6
,
HTC One M9
,
Huawei P8
,
LG G4
and Xperia Z4 leading the charge.
There is even more to look forward to this year, though - not only from the staple names, but from the Chinese companies like Xiaomi, Huawei, Lenovo, Meizu and Oppo, which are yet to fully chip in with their flagships. The Chinese makers managed to churn out excellent value-for-money proposition, paving the way for their handsets not only in China, but attracting some global attention and distribution, too.
Given the trend of increased competition, we can reasonably expect great handsets from the second half of next year as well, when the big phone makers, save for Apple, are traditionally introducing their flagships. From the IFA expo and the iPhone unveiling around September, to the inevitable latecomer to the holiday party, let's round up what we could reasonably expect from H2 2015.