Texting may be going downhill, social networks take its spot
3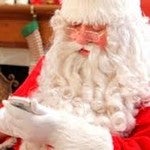 Finland is one of the nations that first adopted the use of text messages. That happened during the nineties. Today, Soneira is the biggest wireless carrier in the country, and its subscribers sent approximately 8.5 million text messages on Christmas Eve of 2011. In comparison, that figure stood at 10.9 million a year ago, which is a difference of about 28%. DNA is another Finnish carrier that reports a decrease in texting on that very same day – 5.6 million text messages were sent by its customers versus the 5.9 million that were sent on Christmas Eve of 2010. The situation in Hong Kong is not much different as the decline in Christmas Day texting stood at nearly 14%. Some predict that the same phenomenon will be observed in the U.S. as well within a couple of years.
For many of the world's carriers, Christmas is the day, on which people text the most. That is why the amount of SMS messages that are being exchanged during the holiday can be indicative for the service's popularity. But now that subscribers have access to Twitter, Facebook, or a similar service straight from their handset, it is no surprise that old-school texting is becoming a less preferred method for communication.
How did you chose to send holiday greetings to your loved ones? Was it easier to shoot a text message to everyone, or did you pick the convenience of social networking instead? Feel free to let us know by dropping a comment.