TextMyFood service being used in restaurants to communicate with servers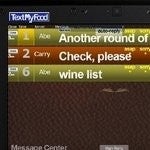 In the attempt to integrate mobile phone technology into the food serving industry, we're beginning to see small amounts of restaurants starting to embrace the everyday mobile phone and incorporating it with its operations.
One specific dive bar located in Cambridge, Mass might not be the first place you'd expect to offer the most delectable meals, but they're actually one of the few to start using the
TextMyFood service
which enables customers to communicate with their servers by simply
texting
them. We all know how it is sometimes during peak hours when you're trying to flag down your server/waitress, but this new process makes it less strenuous on yourself – not to mention discrete as well.
Basically, you can accomplish things like placing a food order or asking your server that you're waiting for the check. Naturally, there are always two sides with everything – some seeing it aiding servers in being more productive, while others argue that it's a little less personal since it doesn't offer that interactive experience with a human being.
Nonetheless, it's slowly starting to shape up and it may very well be coming to your local restaurant down the road.
source:
NPR
via
Textually