Tests showed webOS running twice as fast on an iPad than its native TouchPad
8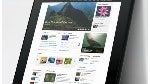 It seems like the mismanagement of
webOS
is something we'll be hearing about for a long time going forward. The webOS system has been celebrated by tech pundits and users, but just can't seem to find its way onto quality hardware with reasonable marketing and support behind it. WebOS started out life on dying Palm hardware running on the bottom tier US carrier, Sprint. Out of death, it was bought by HP and put on the TouchPad, which we knew wasn't the best hardware, but it may have been worse that even we expected.
TheNextWeb is reporting now that HP tested webOS on an iPad 2, and it ran "twice as fast" on the iPad than on the TouchPad. It's unclear exactly how the testing was done, or how the conclusion was reached as it seems devs tested webOS framework Enyo apps on the iPad, and also tested the full OS on the iPad. Still, it has been confirmed by webOS developers that they were forced to scale back features, and not innovate too far because the TouchPad hardware was so slow and had so many restrictions.
It's always sad to see promising software mismanaged, and never find a hold, but at the very least we can hope that Matias Duarte can bring some of the webOS magic to Android.