Tests show AT&T's LTE network is fastest, T-Mobile's HSPA+ "faster" than Sprint's LTE
40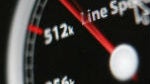 Every year, PCMag drives all around the country to test the wireless carrier networks in 30 different states. The tests are pretty impressive, and quite helpful for those of you who may be unhappy with your service and looking to switch. This year, the big winner was AT&T, which proved to have the fastest LTE, but there were other surprises in the testing as well.
The basic results of the test are this: if you're looking for speed and you live in or around an urban area, AT&T is the best option; but if you're in a rural area, Verizon is the better choice.
The interesting part of the testing is that in most of the areas tested, T-Mobile's HSPA+ network posted faster average download speeds than even Sprint's LTE network. The great equalizer though was T-Mobile's "average time to first byte", which was about 3x slower than any other network. That means, once your download gets going, T-Mobile offers great speeds, but it will likely take a while to get that download going. T-Mobile's LTE network largely gets rid of that delay, but is too small to really make much of a showing in the tests.
If you want to drill down into your specific region of the country to see how each carrier fared, just head to the source.