Test your reactions with Atomic Fusion – a fast-paced, physics-inspired game
1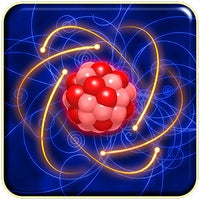 Have you ever dreamed of becoming a rocket scientist? Or a quantum physicist? Or a chemical engineer? Well, the game we're highlighting today isn't going to help you achieve any of these goals. It will, however, test your reaction skills with its fast-paced gameplay.
Meet Atomic Fusion – a casual, science-inspired arcade game for iOS and Android. Your goal is to navigate your atom through the ether and to make it grow by absorbing energy waves. The further you progress, the more elements you'll unlock, but the harder the game will become, as you can probably guess. You see, what makes the game challenging is that you have to absorb only waves of a specific polarity – you'll have to be fast and switch the polarity of your atom back and forth, depending on the energy wave coming at you.
Then there's the number of power-up you'll be collecting as you play. Electrons float around and can be collected – once you've gathered enough of them, you can unleash a powerful wave that clears all matter around your atom. Other power-ups make you invincible, or suck energy straight into your atom.
Atomic Fusion is easy at first, which is great as you'll definitely need some time to get used to its controls. But once the first few levels have been cleared, the game kicks into high gear and really puts your skills to the test. Don't take our word for it – go ahead and download the game from the links below!
| | |
| --- | --- |
| Developer: ByteSized Studios | Download: Android, iOS |
| Genre: Arcade & Action | Price: Free to play, $1.99 to unlock full game |