Test of Google Goggles
6

What is Google Goggles?
This is a visual search service developed by Google that allows people to find out information about various objects by merely taking a picture or pointing the camera at them. The data itself is processed, of course, by the dedicated servers of the developer. Just a single camera snap and you´re in the know. At least in theory...
Sounds pretty cool, doesn´t it? Well, what devices are supported then?
At this time, Google Goggles is only compatible with handsets based on Android 1.6 or newer editions of the operating system. The beta version comes completely free of charge and is currently available at Android Market. Insofar as we know Google and their corporate habits, they will certainly try and expand the range of compatible devices as much as possible and as soon as possible.
The application itself is actually pretty simple really. You´ve got a single software camera shutter and the option to turn on and off the snapshot history, i.e. all saved pictures of objects you have previously snapped. As we already mentioned, you´re just a simple snap away from being properly informed.
So, what kind of objects does it work with?
Google recommends that at the time being you should stick to books, sightseeing spots, logos, business cards, paintings, bar codes and text. It´s really cool that once you´ve taken a shot of a business card and you´re presented with the option to enter the relevant data as contact details. According to the software giant, Google Goggles will soon be able to recognize animals, plant life (even by as little as an image of a single leaf), cars, pieces of furniture and clothing.
During our tests, we got best results with paintings and legibly written text. We are actually pretty worked up about how accurate the service is with the former - the function manages to recognize drawings no matter the style or period, from Leonardo Da Vinci classics to modern art, say Andi Warhol, John Kirby and Giger. In case you decide to take an image of text, bear in mind that non-standard fonts and special symbols can lead to recognition errors. For an instance, the function confused the symbol "|" with the letter "I" in one of our tests. Still, similar mistakes are easy to correct later on. Sadly, the program rarely manages to recognize manufacturers´ logos as inscribed on various cell phones.
The reality we live can be boring at times...
Google Goggles is also a software pack for augmented reality, meaning you don´t even need to take a picture of an object, but simply point the device camera at it. In this case the camera finder shows you relevant tags and labels pertaining to the various objects in your vicinity that the system has information on and based on the information about your current location provided by the GPS, while the direction you're facing is determined by the compass. You can get interesting details about any recognized object that you´ve selected. If it´s a hotel, for example, you will see telephone numbers you can dial to make a booking as well as reviews, written by people who have stayed there. Quite handy indeed, we just hope Google steps up on their efforts to expand the database, so the function becomes usable globally.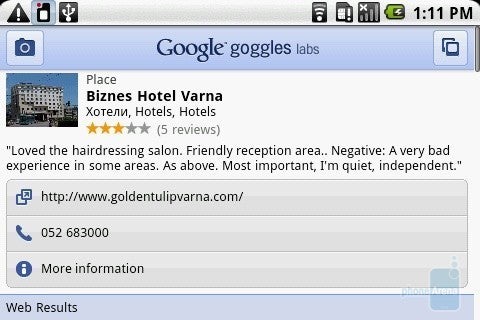 Just a few words
Is this the way we will search for information in the future? We are not fortune-tellers, but we think the answer is "yes". We do believe that Google Goggles is just the beginning and has enormous potential that´s just been touched on. We also believe the company will manage to develop and build up the functionality of the service as their future plans to incorporate recognition of animals and plans reveal. Google has the technology, gumption and will to turn visual search into something that anyone would be willing to use on their cell phones. At this time, Google Goggles is a truly interesting application that´s worth your time and that we can recommend to anyone.