TerreStar Genus hybrid satellite phone for AT&T with Windows Mobile is selling for $799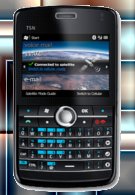 It was back in March around CTIA when we first heard
specific news regarding the TerreStar Genus
, which was still sporting then the last generation Windows Mobile platform, but considerably made itself appealing with its satellite phone capabilities. Fast forward to the present and we're now beginning to see this Windows Mobile powered handset coming into the market – with a steep price tag of course.
Naturally, its $799 price point will surely be considered as a premium when you take into consideration that it relies on AT&T's GSM/HSPA network while reverting to a satellite connection when AT&T's presence is missing or lost. In addition, the pricing structure for service isn't going to be cheap in any way, especially when you'll have to pay as additional $25 per month for the handset – which looks to provide you 65 cents per minute, 40 cents per text, and a hefty $5 per megabyte of data.
Granted, the handset will receive regular and satellite calls all on the same number, but it appears as though the satellite connection is only enabled as long as you're near and around the US, Puerto Rico, US Virgin Islands, and the surrounding oceans. Unfortunately, you're going to be out of luck if you travel abroad.
via
MobileCrunch