Tell off your boss, or flirt with your secret crush by sending anonymous texts using "Truth" for iOS
10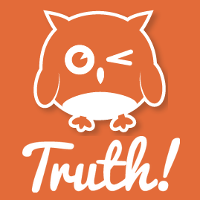 We have
Snapchat
to send messages and videos that self-destruct before prying eyes can see them. Now, iOS users have
Truth
, an app that allows you to send texts anonymously. The recipients of these missives, are people from your contacts list. Ironically, to open a Truth account, you will need to cough up your email address and a password. According to Truth co-founder Ali Saheli, this information will be used for a part of the app's platform that has yet to be announced.
The app works by asking you to select which contacts you want to send a message to. You can choose one person, or send an anonymous text to multiple recipients. By default, the opening line of your text reads, "
The truth is...
"; if you send the message to a person who also has the Truth app, your text will show up in the app with the sender listed as anonymous. If the recipient hasn't yet installed the app, he or she will receive your text message via an unknown number from the Bay Area.
Since no one knows who is sending them a message, you can tell off your boss, or talk to your crush, all without having to reveal your identity. Truth is a free app and as the developer says in the App Store, "
We believe in openness, being honest, and a safe environment for people to talk.
" Unfortunately, to do all that, you have to be closed about your identity.
source:
Truth
via
TechCrunch