Tegra chips boost NVIDIA's revenues in Q2, chart bright future ahead
4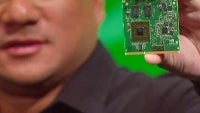 U.S. graphical chip maker NVIDIA reported healthy results for the second quarter and a
bright future
ahead as its Tegra mobile chip surged in popularity. This marks a swing back to profit, which stood at $174 million profit this trimester from losses amounting to $175 in the same period last year, which was mostly due to a cut in cost of revenue, which decreased a whopping 28%.
Nvidia posted revenue of $1.02 billion in the second quarter, a growth of 26% compared to the $811 million for the same period last year.
But while those results include the company's desktop business, it was the mobile Tegra chip which drove the company's profits. It was the first dual-core chip to hit the market and ended up in the majority of recent high-end Androids including devices like the Motorola Atrix 4G, Motorola Photon 4G and T-Mobile G2x. But the chip is also nearly ubiquitous in Honeycomb tablets like the Galaxy Tab 10.1. The
Tegra chip
is now reportedly
found in 10% of all Androids
shipped today.
Those results draw an optimistic future for Nvidia. The company's own forecast for the future is brighter than that of Wall Street as it is aiming at 4% to 6% revenue growth next quarter.
But what will spur that future growth? The company aims to be again the first to hit the mobile market with a new chip – the quad-core
Kal-El
chip was delayed to this fall for tablets and very early 2012 for smartphones, but it is still likely to be the first with four cores on board. In addition, Nvidia is working on a chipset bringing together the application processor and the modem, and aimed at more affordable devices.
"That part of the marketplace is really not well served by anyone, we are going to build an integrated application processor and modem to address that. That allows us to address the lower end of the smartphone, that part of the marketplace will become quite large over the next few years,"
Nvidia's chief executive Jen-Hsun Huang explained.