Tech explained: Here's how the iPhone 6's new, bigger screen will improve user experience
81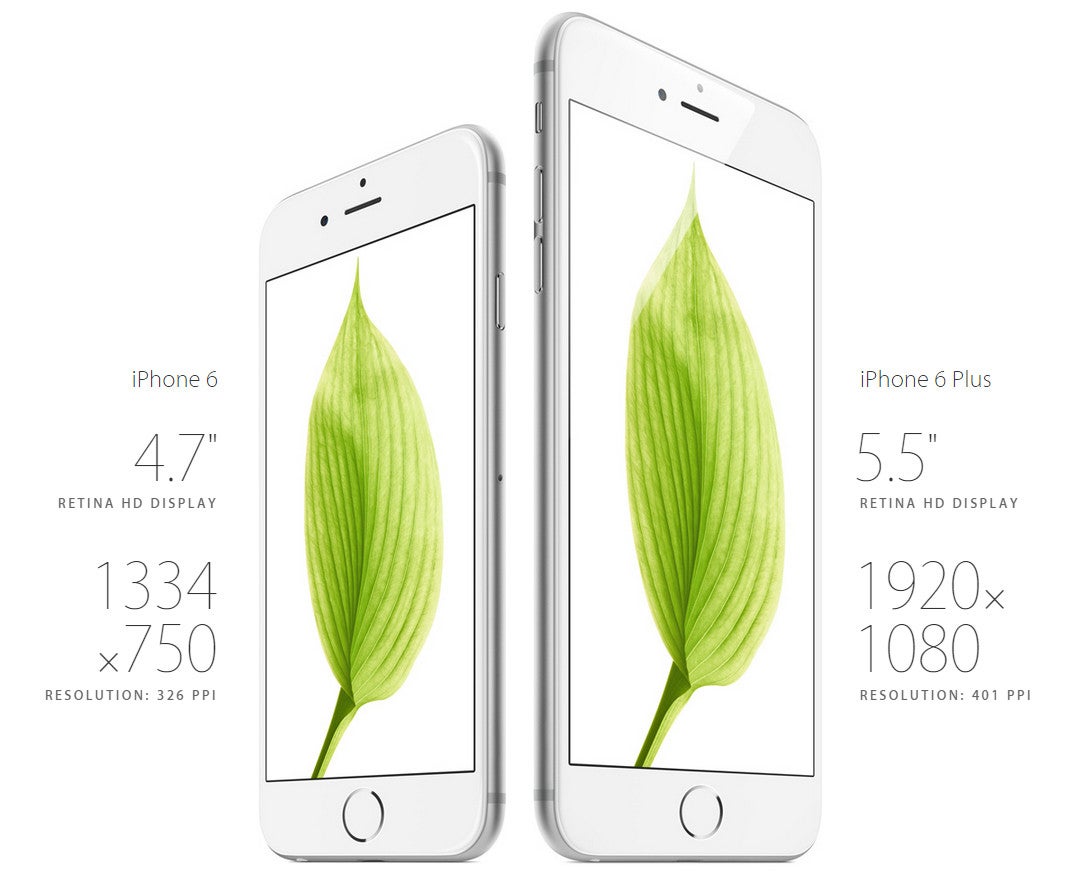 Without a doubt, the most important new features of the
just-announced iPhone 6
and 6 Plus
are their large displays. The more regularly-sized iPhone 6 will come with a 4.7" panel, while the significantly larger iPhone 6 Plus will feature a massive, 5.5" screen. But as you might have guessed, that's not all there is to these new displays. Apple has practically improved each and every aspect of its IPS LCD screens, not only on the hardware level, but also in terms of integrating them better with the iOS experience through some smart software features. Let take a deeper look at the various ways that the iPhone 6 and 6 Plus' screens are going to improve user experience!
Size and resolution
First things first, the most obvious benefit users are going to get from having a larger screen on their iPhones is that all content will appear bigger and more comfortable to view. iOS, the mobile operating system powering all iPhones and iPads, is designed in a smart way, so that text and other small design elements appear large enough on mobile devices' relatively small screen sizes. But of course, having a larger display on your iPhone will make things even easier to read (the jump from 4" to 4.7" is quite substantial, let alone from 4" to the iPhone 6 Plus' 5.5 inches). Not only that, multimedia content like video and games will also be way more immersive on the bigger screens of the new iPhones, so if mobile gaming is your forte, or you tend to watch a lot of video, chances are the iPhone 6 will significantly enhance your experience.
Since display size has gone up with iPhone 6 and 6 Plus, a bump in resolution was also needed, in order to preserve the legibility and clarity if the displayed image. While the iPhone 5 and 5s had screen resolutions of 640 x 1136 pixels, the iPhone 6 brings those numbers to 750 x 1334 pixels, preserving the same pixel density of 326 ppi (pixels per inch). Meanwhile, the iPhone 6 Plus has an even higher resolution of 1080 x 1920 pixels, delivering a pixel density of 401 ppi, meaning that things appearing on the screen will look even sharper and clearer on Apple's phablet. There isn't going to be much of a visible difference between the iPhone 6's 326 ppi and the iPhone 6 Plus' 401 ppi in terms of screen clarity - one will be able to see things a bit more clearly on the iPhone 6 Plus, if they examine the screen very closely and carefully, but that's rarely the case when it comes to real-life, normal usage.
Color reproduction and outdoor visibility
The iPhone 5s had great color reproduction characteristics, but there was still room for improvement. For example, the color temperature of the 5s was about 7100 K, which is a bit higher than the reference point of 6500 K, resulting in colors that are slightly colder (bluish) than needed. With the new IPS LCD screens on the iPhone 6 and 6 Plus, Apple promises improved white balance, which basically means that the color temperature of the displays should be even closer to the reference point this time, resulting in more true-to-life visuals. Additionally, similarly to its predecessor, the iPhone 6 will offer about 100% sRGB colorspace coverage, meaning that all content found on popular media formats, plus the internet, should look exactly as intended on your mobile's screen.
When it comes to brightness and contrast, Apple claims that the iPhone 6 series will exhibit "incredible brightness", but obviously, that's open for interpretation. The iPhone 5s really had an amazing brightness output, reaching about 580 nits in bright daylight. If Apple has managed to reach similar or even better brightness levels with the new, larger panels, that would indeed be a great achievement. Meanwhile, the manufacturer promises a significantly improved contrast ratio, courtesy of a non-traditional method, which involves a process of photo alignment. The phone will be using UV light to determine the optimal positioning of the liquid crystals inside the display, in order to produce better contrast and image clarity. Furthermore, in its effort to improve outdoor visibility, Apple has also enhanced the polarizer of the screen, which will allow it to look better when the user is viewing it through sunglasses.
Viewing angles have also been worked on. The iPhone 6 series will feature the so-called dual-domain pixels, which basically means that the positioning of the RGB sub-pixels will be slightly tweaked so that brightness, contrast, and colors don't degrade so much when the display is viewed from an angle. Hopefully, these optimizations will benefit the iPhone 6 display's viewing angles, without compromising any other aspect of its quality.

The different layers of the iPhone 6's screen
Software optimizations improving the iOS experience on a larger screen
First and foremost, we have to mention that the larger displays and higher resolutions of the iPhone 6 and 6 Plus mean that users will be able to see more of their content on the same screen. Whether you are browsing through a webpage in Safari, reading through a long message thread, or checking your calendar appointments, there's going to be a bit more content displayed on the screen, compared to previous iPhones, saving you some scrolling action.
Aside from that, there's going to be a new feature, called Zoom view. What it's going to do for you is to optimize the UI in order to make elements bigger, so that they occupy relatively the same area as they do on the older iPhones. This way, you may not be seeing more content on the larger screen of the iPhone 6, compared to that of the iPhone 5s, but things will appear bigger. It'll basically be a choice between having a larger item size and having more items on screen.
A somewhat more intriguing new software feature will be the landscape mode available with the Apple iPhone 6 Plus. Apple has redesigned many of the built-in iOS applications, like Calendar, Mail, Messages, and Stocks, so that they employ a more versatile landscape view that shows additional options or content. It's pretty neat that Apple has taken the time to add such features to iOS 8 - we're sure that iPhone 6 Plus users will definitely appreciate this kind of functionality. Naturally, this also opens new horizons for iOS app developers, who will be able to take advantage of the larger canvas in order to produce even more productive and advanced applications.
So, it appears that the new, larger screens of the iPhone 6 and iPhone 6 Plus are going to enrich the iOS user experience in a number of ways that go beyond simply making things bigger. Apple has done tweaks and improvements to pretty much every aspect of its mobile screens, and that gets us pretty excited about the enhanced iOS experience that's soon going to be rolled out to consumers -
starting on September 19
, when the new iPhone 6 and iPhone 6 Plus are going to be released.