The iPhone 6 is here with a larger display and a super-thin profile
52

Almost exactly 365 days after Apple removed the veil masking its now ex-flagship, the iPhone 5s, the company has, like clockwork, just announced its successor -- the iPhone 6. In many ways the new iPhone serves as a reminder that change is inevitable, even for a seemingly monolithic company like Apple.
Indeed, the iPhone 6 opens up a new page in Apple's relatively short history of building smartphones. Perhaps most notably, the Cupertino-based giant is changing its ways in both the hardware and software categories, with a larger-than-ever flagship, and a more open, developer-friendly iOS 8. And while we're certain that, in due time, the industry as a whole will dissect the new iPhone and its updated software in a leave-no-stone-unturned type fashion, right now is the time to focus on the basic building blocks of the latest iPhone.
Design and Display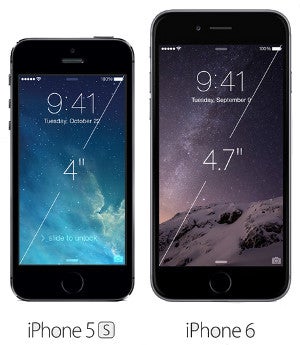 Ladies and gentlemen -- the rumors were true, and the dummies were real. The iPhone 6 branches out from the existing Apple design language, and though the elements that make up the entirety of its construction are not altogether new, the latest iPhone is its own thing. In fact, if you take a step back, you'll realize that this is the second major redesign of the iPhone family -- the first one being the transition from the rounded, pill-shaped iPhones before the iPhone 4, which, in turn, introduced a more rectangular narrative.
So what does the above mean? We've found that a good (and factually-correct) way to think about the iPhone 6's design is to envision a mash-up between various iPod Touch and iPad mini motifs. That alone will give you a mental picture that will likely be closer to the real thing than apart. Of course, when thinking about the new iPhone, it's also important to remember that we're now talking about a significantly larger device, with a 4.7-inch screen. But while the width, height and weight of the device shot up (138.1 x 67 mm, 129 g / 5.44 x 2.64 in, 4.55 oz), thickness shrunk down to 6.9 mm (0.27 in), making for a very thin phone overall.
Going back to the display, the 4.7-inch IPS panel has a pixel resolution of 750 x 1334, giving it a pixel density of 326 ppi, in line with Apple's "retina display" philosophy and equal to what the iPhone 5s has going on. According to the company, the screen can crank its brightness to up to 500 nits, and sports an oleophobic coating that will keep the nastiest of fingerprint smudges away.
The silicon inside

The GPU of the iPhone 6 is 84 times faster than the one on the original iPhone, while processing power has shot up more than 50 times
With the iPhone 6, Apple is making clear its ambition to continue designing its own CPUs, and the new quad-core A8 system-on-chip is as much a proof as one would need. In reality, the home-grown A8 is the third custom-designed Apple chip based on ARM architecture, but only the second based on ARMv8, signifying that we're again looking at 64-bit silicon. What's new here includes a smaller, 20-nm chipset with 2 billion transistors, all the while being 13% smaller than the A7 silicon on the iPhone 5s. Perhaps most importantly, however, the new chip's two cores will be 25% faster and its GPU will perform 50% better in comparison with the iPhone 6's predecessor.
The new SoC also comes with support for over 20 LTE bands, which is more than any other phone right now. What's more, the iPhone 6 will also support LTE roaming, Voice Over LTE, and Wi-Fi calling. Speaking of Wi-Fi, Apple is moving to the 802.11ac standard, promising up to three times faster speeds when connected to a wireless network.
More power and features are, of course, only one side to the coin – efficiency is becoming increasingly important. While Apple is yet to reveal the exact capacity of the batter of the iPhone 6, the company did say that the new iPhone will offer up to 4 hours extra in 3G talk time, 10 more hours of audio listening, and 1 extra hour of video playback over the iPhone 5s.
An improved iSight camera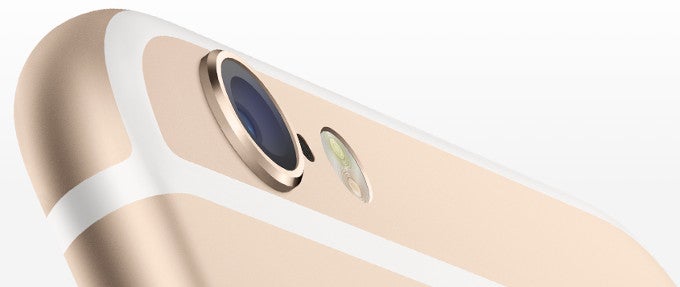 As we ourselves suspected, Apple is once again refusing to be dragged into an arms-race in terms of camera megapixels, so the iPhone 6 will stick to an 8-megapixel rear camera with a True Tone flash. The unit has 1.5µm pixels, and its five-element lens' aperture sits at f/2.2.
Apple also claims that, because the iPhone 6's camera makes use of phase focus, the time needed for the unit to focus will be cut in half. The Cupertino-based company also revealed that the improved snapper can shoot slow-moes in 720p resolution at the whopping 240 frames per second in case you feel like 120 frames just weren't enough. Unfortunately, the unit on board won't have an OIS gizmo (Optical Image Stabilization) as was rumored, and will instead use a software implementation (digital image stabilization) to compensate for hand shake during video capture.
As for the camera at the front, we're looking at a "new" FaceTime HD (720p) camera with an "all-new" sensor with f/2.2 lens. According to Apple, the new config will allow the camera to collect 81% more light for brighter selfies.
Apple Pay: wireless payments thanks to NFC
One of the biggest reveals Apple had in store for its presentation was the announcement of the company's Apple Pay service. The new feature will, together with PassBook, attempt to dismantle the status-quo, and try and usher us all into a new era of digital payments.
The way Apple Pay works is simple – the iPhone 6 has an NFC chip, supposedly nestled at the top of the phone, which will allow you to pay at a gigantic number of retail locations, including Starbucks, Subway, McDonalds, Macy's, Bloomingdales, Staples, Whole Food Market, and Disney and Apple stores. To achieve that, Apple has also partnered with Visa, Amex, MasterCard, and American Express, the combination of which processes over 80% of all transactions made in the States.
Of course, other than promoting Apple Pay as an easier-to-use alternative to the traditional routine of whipping your credit card, the Cupertino-based giant claims that its service is far more secure, and essentially makes it impossible for fraudsters to... well, rob you. The way that works is that instead of simply stockpiling on your credit card info and then share it with merchants when transactions occur, Apple Pay will instead generate one-time-only, dynamic security tokens. In other words, as soon as a transaction is complete, even if someone was to somehow get their hands on said token, it'll be less than useless for them.
iOS 8, now prime time-ready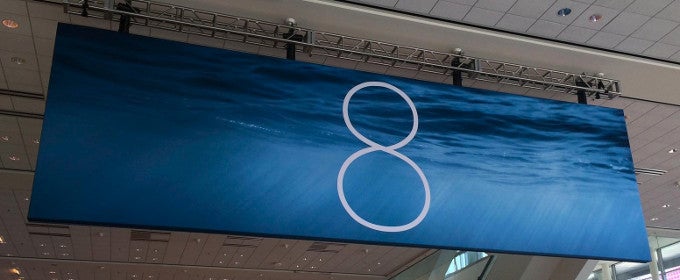 Unlike iOS 7, which was mostly a design-centric update, iOS 8 will instead focus on functionality additions and keep the visuals of its predecessor. Indeed, Apple is changing quite a few things up, and is actually opening up its traditionally sealed-off platform. Let's talk specifics.
The notification bar is now more functional than ever
Perhaps one of the major improvements in iOS 8 concerns the notification bar. For example, in iOS 8, you'll be able to 'action' those right on the spot, meaning that you can simply swipe on a new notifications and perform a number of actions, like reply to a text message or like a new Facebook post. Best of all, the ability to directly interact with notifications won't be limited to the notification bar -- you can action stuff right from the lockscreen.
Perhaps as importantly, Apple is finally adding widget support in iOS 8, though these will be housed within the Today tab in the bar itself, and not on the homescreen (à la Android). During its presentation at the WWDC back in June, Apple demo'd a few possibilities for widgets, including ones for keeping track of game scores or even bid on items on eBay in real time. Obviously, more apps will follow suit, so the sky is the limit.
Apple is opening up
The Cupertino-based company has also taken steps to improve the software keyboard (which it now calls QuickType) on iOS 8, but that's actually not the surprising part at all. The unexpected part was that, despite the seemingly non-trivial tweaks QuickType got, Apple is actually opening access to the keyboard component in iOS for the first time in history. This means that third-party developers will now be able to create custom keyboards for people that are, for whatever reason, unhappy with Apple's implementation.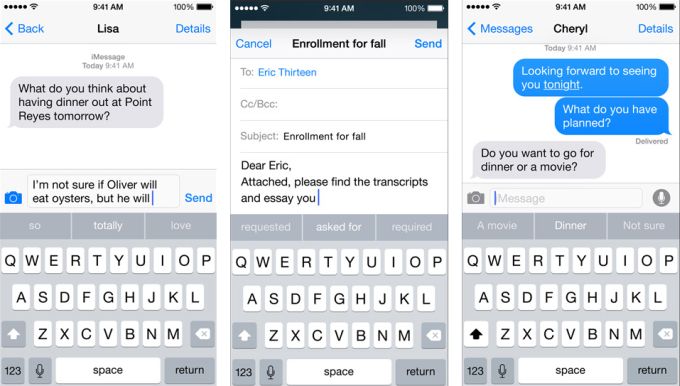 For those unwilling to move away from the company's familiar layout, there's some good news. First and foremost, the built-in keyboard will now offer predictive next word suggestions, kind of alike to most Android keyboards on the market right now. Where Apple's solution may win out, however, is the promise that QuickType will eventually learn enough about your contacts and start differentiating between formal and informal contacts and change the entire predictive vocabulary set to better fit your needs. What that means in practice is simple: As soon as QuickType is certain that John or Jenny are your best pals, and Mark is your boss, it'll automatically cycle between a formal and informal vocabulary.
On a different, but related to the theme note, Apple is also, surprisingly, opening up access to the Touch ID fingerprint sensors for third-party developers for use in their apps. Once again, all the biometric information will be physically stored on the chip inside the iPhone 6, and even though apps can now make use of Touch ID, they still won't have access to your fingerprint.
The improved Siri and the new Health app
Also receiving some much-needed love is Siri, Apple's virtual assistant. The improved Siri will now recognize songs, make iTunes purchases, and even control smart household gadgets that make use of the new HomeKit API. What's more, Siri now understands nearly two dozen additional languages, and can be summoned by simply saying "Hey, Siri!", though it remains to be seen if that iPhone 6 will allow for this when not inside the Siri interface and off the charger.
Price and release date
The 16GB version of the iPhone 6 will cost $199 on a 2-year contract, while the 64GB and 128GB versions will go for $299 and $399, respectively. You read that right -- Apple will replace the 32GB slot with a 64GB version, and is also making a 128GB model available for the first time.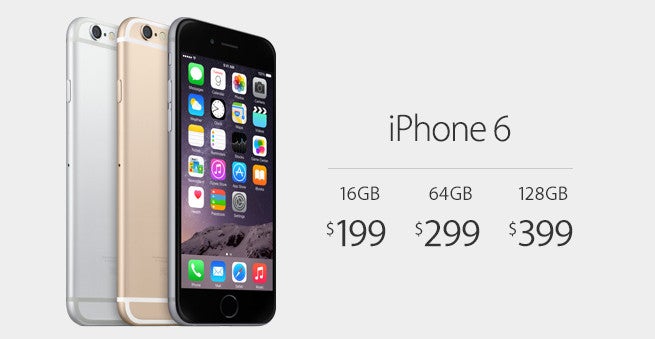 Pre-orders start September 12th and units will start shipping out of Apple's warehouses a week later, on September 19th. The first batch of iPhone 6s will sell in the USA, Canada, the UK, France, Germany, Australia, Hong Kong, Singapore, and Japan. By the end of 2014, some 115 countries worldwide will have access to the iPhone 6.