Taxpayers get to monitor budget via SMS alerts…in Uganda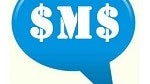 In what is being described as an effort to ensure accountability with the next fiscal year's budget, Ugandans will be able to get mobile alerts about government spending.
The alerts will provide updates about expenditures to payroll, pensions, infrastructure and more across the government's 72 agencies. The goal is to build confidence in the government process and keep the public vigilant in keeping tabs on the use of its tax dollars and other fund sources.
Each of the government ministries will provide quarterly progress reports and that the finance ministry will be disbursing funds by the 15th of the first month of each quarter. Since Uganda's budget will be reaching a new high this year, 13 trillion shillings ($1 = 2,592 UGX), or $5 billion, and the country has been dealing with double-digit inflation, it is hoped that this level of transparency will keep everything and everyone in check.
Finance Minister Kenneth Mugambe, said that the infrastructure and energy expenditures will feed stronger economic growth for the country. Hats off to the Ugandan government as such accountability is but a dream for countries with budget issues, like the United States, where this type of transparency would earn lip service and little else.
source:
AllAfrica