Tax day is looming in the US, and Mark Zuckerberg will likely be writing a really big check
17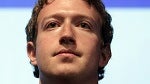 If you live in the United States, April 15th is a date that holds a special place in your heart. You might love it if you are an accountant, or, more likely, you hate it because it is the deadline to file taxes.
A lot of people live their lives in ways to pay as little tax as possible, and many are successful. About half of the wage earners are able to get a refund of their withholdings and end up paying no income tax at all.
There are some taxes that are a lot harder to avoid however. Capital gains, or "unearned" income as it is sometimes referred to, are taxed at a lower rate overall, but unless you are moving a lot of money around in the process, Uncle Sam will get his share. Mark Zuckerberg, founder and CEO of the nearly ubiquitous social network Facebook, might be cutting a check to the Internal Revenue Service (IRS) for a
whopping $1 billion.
When Facebook went public last year, Zuckerberg exercised an option to buy 60 million shares at 6 cents per share, adding roughly $2.3 billion in ordinary income to his bottom line for 2012. That qualifies for the higher federal tax rate of 35%, plus California's stifling 13.3% rate (the highest in the US), and on that transaction alone, nearly half might be sent to the government.
None of this accounts for other income that Zuckerberg obviously made last year, nor does it consider whatever deductions that would be itemized, and while the IRS does not reveal individual tax return data, many money-gurus are thinking that Zuckerberg will have a total tax liability in excess of $1 billion for 2012.
Believe it or not, that is really unusual, even for billionaires, whose holdings usually generate income through capital gains, taxed at 15% for 2012, but goes up to 23.3% for 2013. During the IPO, Facebook disclosed that Zuckerberg was going to be selling stock to cover his tax liabilities. However, it will not end there as he still has 60 million options which expire in 2015, so he will likely be cutting another hefty check again very soon.
source:
CNN Money