Target and Best Buy join Sprint on iPhone discounting fun
6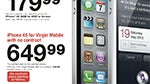 It's no surprise to regular readers that there is a new iPhone coming next month. It's apparently not a surprise to the big box retailers either, as Best Buy and Target have followed
Sprint's lead
and are now offering generous discounts on the iPhone 4 and 4S. The firesale started a week ago when Sprint started discounting the iPhone 4S and waiving its activation fee for a whopping $86 in savings. That was followed by Apple itself, where leaked internal papers showed that Apple Stores
would offer price matching
on published discounts.
Target is selling the 16 GB version of the iPhone 4S for as low as $149.99 on contract now, and Best Buy is starting to promote their
discounted iPhone 4
, which they are offering for $50 on contract. Of course once the new iPhone starts shipping those deals won't seem to keen anymore, as Apple's usual pricing strategy suggests that the iPhone 4 would drop down to free on contract (replacing the iPhone 3GS) and the iPhone 4S would drop down to $99, although it will most likely be the 8 GB model.
Discounting of iPhone models is starting significantly earlier this year than in past years
; it's not clear if that's because retailers have learned from past releases that they need more time to clear out stock, or if Apple is actually encouraging this to help stave off Android's
rapidly growing market share
as sales of the current iPhone slow down. Regardless of what the reasoning, the real cautionary note here is that renewing your contract now to take advantage of those deals means you will already be locked in in another month or so when Apple's shiny new iDevice is released.
So if you were just waiting for a price drop now is probably the time, but if you are the type to suffer buyer's remorse when new products launch, you might want to sit tight and see what September brings.
Update:
We've been contacted by a Target Mobile employee that clarified that Target's now selling the 16 GB iPhone 4S for AT&T for $149.99, while the Verizon version sells for $179.99.
source:
AllThingsD
via
Apple Insider
Recommended Stories