Take DSLR-esque shots with your Android phone with After Focus
7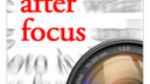 If you love the quality of the shots from your Android smartphone, but wish your images could have a little bit more of a DSLR feel too them, you have got to check out After Focus. The app is available in a free and pro version for $1.99 and can help give your shots a little something extra to make them pop.
The first cool thing about After Focus is it works with the camera app of your choice, so you can use the stock one, Camera360, or whatever other app out there you love and then work on your image in After Focus. You can also, of course, use it on an old image you have saved to your gallery.
Once you launch an image, Photoshop and other advanced image editor users will immediately feel like they are working on a Quick Mask. For everyone else, you simply paint on the display the parts of the image should be in focus and After Focus will use that data to create a cool bokeh effect.
Once you have your image all painted up, you can control the type and amount of blur, aperture shape, add filters, and add effects such as vignetting, color masks, sticker, and sharpen.
The $1.99 pro version also allows you to take double photos to auto calculate the focus area, supports high-res images up to 2048px, adds more filters, and adds edge-feathering to smooth the transition from focused area to background.
You can grab either version of After Focus from the Google Play store via the links below:
Recommended Stories