Tablet app revenue could pass smartphones by 2018
4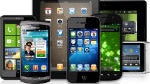 The smartphone market obviously has something of a jump on tablets. Smartphones have been something of a natural evolution from feature phones, but tablets are a much more "new" segment of products. But, at least as far as app revenue is concerned, at least one analyst believes that we'll see tablets surpassing smartphones by 2018. And, that's where we fall right back to our normal response of, "Really, analyst? You're going pretty far out on a limb saying that tablets could maybe earn more in app revenue
5 years from now
."
It makes sense though. This year, tablet apps are expected to generate $8.8 billion in revenue, compared to smartphone apps which are expected to generate $16.4 billion. Of the total expected app revenue of $25 billion, 65% is expected from iOS, 27% from Android, and 8% from the other mobile platforms. ABI analyst Aapo Markkanen says that by 2017, tablet and smartphone app revenues should pull equal, with tablets taking the lead in 2018, when the combined revenue base is expected toreach $92 billion.
The reasoning is fairly simple too:
The larger screen makes apps and content look and feel better, so there are more lucrative opportunities. One might think that the bigger installed base of smartphones would compensate for the disparity, but that notion fails to take into account the arrival of low-cost tablets, which hasn't even started yet at its earnest. The smartphones paved the way for them, but in the end we believe that it's the tablets that will prove the more transformative device segment of the two.
A big part of this is expected to benefit from how tablets can be used to reach children and the elderly, two segments that traditional computers have struggled to reach.