TMZ fooled by iPhone 6 knockoff
28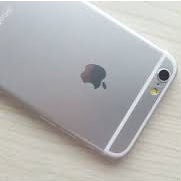 No one has ever really claimed that
TMZ
was a source to go to for technology news, and today proves why. The outlet has likely misled thousands of readers by publishing pictures that it claim are the real Apple iPhone 6, but are actually just photos of a Chinese iPhone 6 knockoff that is already out on the market.
The number one red flag is the navigation overlay on the homescreen, which includes a back and menu button, neither of which would ever be found on an iOS device. Beyond that, you need to have some deeper knowledge of the system to notice the differences. First of all, the device is modeled on iOS 7, not iOS 8, and doesn't include an icon for Healthkit. If you're looking even closer, you'll notice that the font on the calendar icon doesn't match what it should look like.
Some may try to excuse
TMZ's
failure by saying that they aren't a tech site, but we would posit that is exactly why the outlet shouldn't even try in the first place. There's a reason why we here at
PhoneArena
will never be diving into the celebrity gossip world: it's just not our area of expertise.