T-Mobile's Legere, Sprint's Claure tout benefits of their merger before Senate committee
9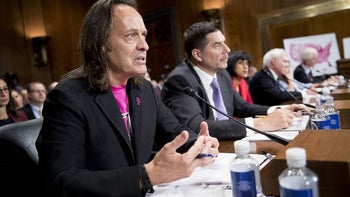 Testifying today before a Senate Judiciary Committee that focuses on Antitrust matters, T-Mobile CEO John Legere and Sprint Executive Chairman Marcelo Claure gave reasons why their $26 billion merger needs to be completed. Legere told the Senators that the nation's two largest carriers, Verizon and AT&T (he didn't call them 'Dumb and Dumber' like he usually does), have advantages that T-Mobile and Sprint can't compete with unless the third and fourth largest carriers in the states can combine forces.
The executive added that the combined T-Mobile-Sprint would raise its overall headcount despite cutting 3,295 full-time retail jobs through 2024. Some part time positions and distributor jobs would also be lost.
Claure pointed out in his testimony that over the last ten years, Sprint had lost more than $25 billion. During the years 2011 to 2017, the number of employees dropped from 40,000 to 30,000. Even though Sprint was in the black last year for the first time in 11 years, it still carries a massive $32 billion in debt. And to make matters worse, Claure said that Sprint is "unable to spend at parity with Verizon and AT&T, much less catch up to their previous investments."
The committee's ranking Democrat, Senator Amy Klobuchar of Minnesota, wanted to know whether the combined T-Mobile-Sprint could raise prices to a level just below Verizon and AT&T and still keep their existing customers. Claure answered that the only way for the combined carrier to gain enough market share to fill the higher capacity of its new network would be to lower prices.
"They are much larger and more diversified, so they have a significantly better cost structure. Verizon and AT&T have scale and asset advantages that even our best offerings cannot overcome."-John Legere, president and CEO, T-Mobile
T-Mobile, under Legere, has blossomed into the most innovative of the four major carriers. But this is exactly the reason why one advocacy group thinks the merger should not go through. Gene Kimmelman, president and chief executive of Public Knowledge, said that if the deal is completed, T-Mobile will no longer feel the need to disrupt the industry and have to fight for customers.
The T-Mobile-Sprint transaction must be approved by both the FCC and the Justice Department before the transaction can close.