T-Mobile's Legere: FTC charges "without merit"
6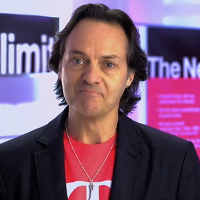 Earlier today, we told you that
the FTC had accused T-Mobile of cramming
. This is the practice of charging customers for unauthorized services provided by third party companies. T-Mobile quickly responded to the suit filed by the government agency. CEO John Legere called the FTC's action "
unfounded and without merit
."
T-Mobile's CEO said that the carrier stopped billing for the questionable premium SMS texts that the FTC is concerned about, last year. Legere added that the wireless operator had started a program to refund in full, charges made on a customer's account for something that he or she didn't want. Legere says that
"the suit against T-Mobile is not only factually and legally unfounded, but also misdirected."


Is this what happens to you when you challenge the powers that be? Will the FTC's suit against T-Mobile slow down the latter's momentum? Will it put the kibosh on any chance at all of a Sprint-T-Mobile deal? The news is still too fresh for us to be learning answers to these questions. Right now, all we know is that the FTC has accused T-Mobile of illegalities, and now John Legere is striking back. Considering what he has accomplished over the last year, we wouldn't bet against him.
"We have seen the complaint filed today by the FTC and find it to be unfounded and without merit. In fact T-Mobile stopped billing for these Premium SMS services last year and launched a proactive program to provide full refunds for any customer that feels that they were charged for something they did not want. T-Mobile is fighting harder than any of the carriers to change the way the wireless industry operates and we are disappointed that the FTC has chosen to file this action against the most pro-consumer company in the industry rather than the real bad actors.

As the Un-carrier, we believe that customers should only pay for what they want and what they sign up for. We exited this business late last year, and announced an aggressive program to take care of customers and we are disappointed that the FTC has instead chosen to file this sensationalized legal action. We are the first to take action for the consumer and I am calling for the entire industry to do the same.

This is about doing what is right for consumers and we put in place procedures to protect our customers from unauthorized charges. Unfortunately, not all of these third party providers acted responsibly—an issue the entire industry faced. We believe those providers should be held accountable, and the FTC's lawsuit seeking to hold T-Mobile responsible for their acts is not only factually and legally unfounded, but also misdirected."-John Legere, CEO, T-Mobile
source:
T-Mobile