T-Mobile's Galaxy S 4G challenges the iPhone to a $1000 wireless speed battle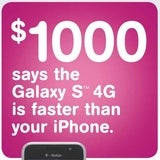 In an effort to promote its 4G wireless network and to grab the attention of iPhone aficionados,
T-Mobile is setting up an unusual challenge
this weekend. If you live in the Seattle area and you own an iPhone, you are officially invited to bring it to any of the participating locations and attempt to beat the
Samsung Galaxy S 4G
in a download speed test. The reward? You will instantly become
a thousand dollars richer
.
T-Mobile's Samsung Galaxy S 4G seems to have the upper hand in this battle since in theory, with its 21 Mbps HSPA+ connectivity, it can easily outrun AT&T and Verizon iPhones alike, which are limited by their 7.2 Mbps 3G radios. That explains, of course, why such a hefty prize is at stake and why T-Mobile is so confident in the capabilities of its wireless network. Nevertheless, it wouldn't cost you anything to give it a try. If you feel that the planets and stars will align in your favor, grab your iPhone and pay a visit to any of these venues:
Downtown Seattle
Factoria Village (formerly Loehmann's Plaza)
Bellevue Square
Redmond Town Center
Aurora Ave. N. & 135th St.
45th & Stone Way
NW 85th St. & 15th Ave. NW
Lake City Way NE & NE 125th
Bothell & 208th St.
Northgate Mall
The speed challenge promo starts tomorrow, April 29, and ends on Sunday, May 1, and if you manage to grab the $1000 by beating T-Mobile's Galaxy S 4G with your iPhone, do not forget to share it with us in the comments!
source:
T-Mobile
via
Digital Trends