T-Mobile's FamilyWhere offers family member tracking services
4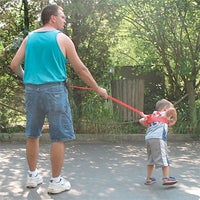 Let's face it; eventually those kids are going to get too big for that weird leash you've been toting them around on in public places all over America. Thankfully T-Mobile has launched some services that cater to the overbearing parent in the 21st century.
T-Mobile's FamilyWhere app offers both free and paid versions of its tracking service.
FamilyWhere Check In
is a
free
service that allows kids to manually send text message check-ins with their location.
FamilyWhere Locate
costs
$9.99
for up to 10 lines and adds additional functionality. Under this plan parents can automatically locate the other phones on the plan as well as schedule automatic location checks.
Of course, FamilyWhere only works when the phone is on and in a T-Mobile service area, so the old "movies" dodge should work just fine for teens looking to circumvent the system. You know, because it is very rude to keep your phone on during a film.
*wink*
source:
Android Market
via
Engadget