T-Mobile's 3rd quarter customer adds are "best ever," revenues are up, but so are costs
11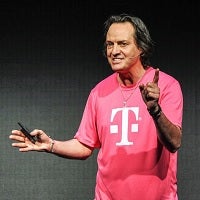 T-Mobile, the current darling of the wireless industry in the United States, posted continued growth in its customer base with its third-quarter earnings statement, casting a shadow over the competition.
For the period ending September 30th, T-Mobile added a net total of 2.3 million customers to its ranks, bringing its whole subscriber base to nearly 53 million customers. To put that in perspective, 10 million of those additions occurred over the past 18 months.
T-Mobile's growth is shaking the industry, AT&T and Verizon have taken notice, and Sprint is well on its way to being relegated to the "number 4" spot by the end of the year. T-Mobile is leading the way with pre-paid customer additions too, of which more than 400,000 were added last quarter. In equipment sales, 6.9 million smartphones were sold, over half-a-million feature phones, and a couple-hundred-thousand mobile broadband devices moved off the shelves too.
By nearly every measure, T-Mobile had gains in every category. Total revenues for the quarter were $7.35 billion. With the aggressive campaign to gain customers though came increased costs and increased churn, so while revenues were up, T-Mobile's churn rate increased to 1.6%, well above
AT&T
and
Verizon
.
The average billing per user (ABPU) and average revenue per user (ARPU) is up, which is a good thing, but trailing a bit behind the competition. ABPU was up to $61.59, and ARPU edged up to $49.84. This is a reflection of the rapid adoption rate of the Simple Choice plans. With those gains came a modest income loss of $93 million. T-Mobile's gains over the past year have outrun losses like this though, and as such, Team Magenta has increased its subscriber projections for the year significantly to 4.3 to 4.7 net customer adds, versus 3 to 3.5 million.
On the network front, T-Mobile announced that its LTE network covered 250 million people, achieving its goal for all of 2014. That coverage will expand to cover 300 million over the next year. Capital expenditures will continue to be dedicated to making use of its newly acquired 700MHz A-block spectrum, and existing PCS holdings.
source:
T-Mobile