T-Mobile trolls Verizon's LTE speeds at the Super Bowl, hilarity ensues
50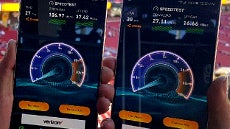 T-Mobile's flamboyant CEO John Legere has a Facebook account. That account is the gift that keeps on giving when it comes to trolling other carriers, but especially Verizon, about data speeds. It also comes in handy to whip up LTE speed comparisons at the Super Bowl 50 with everyone, but especially with Verizon.
John Legere posted a picture with two phones, one on T-Mobile, and one on Verizon, directly comparing the speeds that each network was able to muster at the stadium. Needless to say, the comparison is in T-Mobile's favor, as it managed to score almost four times Verizon's result on the download side, and more than two times on the uplink.
T-Mobile didn't stop here, though, as it issued a chart comparing the average LTE speeds that all four major carriers were able to deliver in San Francisco around game time, and Verizon is lagging quite behind there, despite a $70 million investment to boost coverage in the area before the game. Big Magenta also had a 30-second spot during the game, dissing Verizon again, which you can see in the slideshow below.
Verizon, however, is quite nonplussed from all the trash talk, it seems, and issued a rebuttal ad, where a guy with a magenta beanie is still waiting for said T-Mobile ad to load, while his friends are getting impatient around him. Pass the popcorn, organic non-GMO if you have it.