T-Mobile to reach 250 million Americans with its LTE signal by the end of this year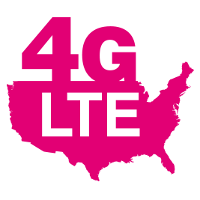 On Wednesday night, T-Mobile CEO John Legere passed along some numbers, detailing the State of the Carrier. According to the executive, the mobile operator's LTE signal reaches 227 million Americans, and that number will hit 230 million by the end of this month. By the end of the year, 250 million Americans will be covered by T-Mobile's 4G LTE signal. In 2015, the carrier's LTE rollout will be complete.
In addition, T-Mobile's CEO announced that the carrier now has its VoLTE service available in 16 markets. That includes major metro markets like New York, Chicago and Los Angeles. Later this week, an update to the carrier's
Samsung Galaxy S5
will add support for VoLTE. That would mean that 4 of the handsets offered by T-Mobile (
LG G Flex
,
Samsung Galaxy Light
and the
Samsung Galaxy Note 3,
in addition to the Galaxy S5
) support the voice over LTE feature. Currently, 100 million T-Mobile subscribers can use the service.
With 15+15MHz and 20+20MHz channels in use by T-Mobile, the carrier says that its VoLTE service has a theoretical peak speed of 150Mbps.
source:
T-Mobile