T-Mobile sued for blocking mobile marketers
2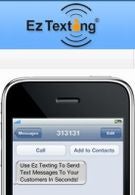 T-Mobile is being sued for blocking texts from EZ Texting, a mobile marketing service. T-Mobile stopped their codes initially because of EZ Texting's dealings with Weedmaps.com, which directs consumers to medical marijuana dispensaries.
In the suit, EZ Texting is claiming that T-Mobile had been planning to block the texts already, based on their affiliation with Weedmaps.com. EZ Texting then severed their year-long relationship with Weedmaps.com, but T-Mobile nevertheless started blocking their codes the very next day.
When EZ Texting attempted to reinstate their code, T-Mobile told them they would have to establish a new connection service. EZ Texting CEO Shane Neman claims that this process could take up to 6 months, and cause irreparable harm to the business.
Neman suggests that text messaging should be allotted the same freedoms of speech as voice calling: "Consumers have a right to send and receive text messages with whoever they want...If T-Mobile starts taking a stance on blocking lawful content on medical marijuana, does this mean they're going to take a stance on other issues? What about gay marriage? Maybe they're against the Tea Party. Where does it end?"
Mobile customers might not line up to defend the freedoms of a text marketing company, but we should certainly consider the implications of allowing our carriers to determine our content.
source:
PC Mag