T-Mobile slices Garminfone price again, this time for existing customers only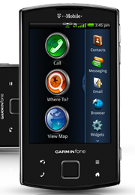 It seems that no matter which carrier Garmin lines up to sell its smartphones, the company cannot drum up any business. Last year, the nuvifone G60 was such a flop that AT&T 86'd it. Of course, using a Linux based OS might have been part of the problem. So Garmin went back to the drawing board and produced the Garminfone, using Android 1.6 (see a problem already?). The results are about the same. As we
reported
, about 3 weeks ago T-Mobile cut the price of the phone to $129.99 after a rebate and a signed 2 year contract from the launch day price of $199.99 under the same conditions. Now, T-Mobile has sent out an e-mail to existing customers, telling them that they can buy the Garminfone for $99 after a $50 rebate and a signed 2 year contract.
With tongue in cheek, we could say that Garmin's corporate partner Asus knew that the handsets wouldn't sell after all. When speculation surfaced early this month saying that the Garminfone was not selling, the company said that the phone was ringing up the cash register "as previously planned" which, at the time we
reported
on the story to you, was estimated at a mind boggling low 20,000 units sold.
Perhaps T-Mobile customers will see the new price as the proper level for the device. In an economy that is based on supply and demand, products tend to rise or fall to the price level that they deserve to be at. Or, it just could be that Garmin's smartphones are finding it too difficult to compete against the iPhone and Android toting models. Since most mid to high-end phones today have capable GPS functionality, for the Garminfone to outsell the competition, it would have to offer the same browsing, YouTube, multimedia and phone experiences as the other handsets. Take this into consideration and it's no mystery why the Garminfone is following the course set by the nuvifone G60.
Garmin-Asus nuvifone G60 Specifications
|
Review
Garmin-Asus Garminfone Specifications
|
Review
source:
T-Mobile
via
DroidDog