T-Mobile slashes the prices of the RIM BlackBerry Bold 9700 and Curve 8520
0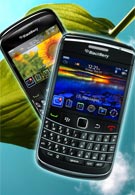 T-Mobile
has reduced the contract prices of two of
RIM
´s latest handsets – the
BlackBerry Bold 9700
is available for $129.99 (used to be $199.99) and the
Curve 8520
is now just $79.99 (was $129.99). We saw something similar happen to AT&T´s prices before the holidays last year, but it seems the reason is different now. First off, all customers taking a RIM-made smartphone must, like it or lump it, sign up for the BlackBerry Internet Service.
The rumor has it the second reason behind the surprising price drop of the said models is that similar handsets and in the same price range, are soon coming to T-Mobile´s product catalogue. We are talking about the
BlackBerry Pearl 9100
(also known as the Stratus), the Curve
8910
(successor to the 8900) and the mysterious cell phone codenamed the
Apollo
. The specifications of the latter have already been leaked on the Internet recently and assuming they are accurate, the handset will be a mainstream device coming with 3.2-megapixel camera, 3G, Wi-Fi, GPS, optical trackpad and design pretty similar to that of the other models of the Curve series. However, there are still no pictures of the cell phone to confirm the assumption.
What the three handsets have in common is they are designed to run on GSM networks and none has been announced to date, meaning we would probably have to wait until they get officially introduced to find out whether or not they are truly on their way to T-Mobile´s product catalogue.
RIM BlackBerry Bold 9700 Specifications
|
Review
RIM BlackBerry Curve 8520 Specifications
|
Review
source:
PocketBerry