Is this the BlackBerry Curve 8910?
5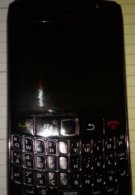 Right after seeing its way getting a Bluetooth SIG
certification
, an image of the alleged BlackBerry Curve 8910 may have been snapped up. Not surprisingly at this point, it features the standard optical trackpad as opposed to the trackball. Overall, there is no indication of any extensive overhaul in the design of this handset – you've got your standard QWERTY and the usual placement of hardware buttons. Then again, some will argue that this is a tried and true formula for RIM – so why change a good thing? Besides the physical layout of the handset, it'll most likely be running BlackBerry OS 5.0 which we've all come to enjoy and see nowadays. Don't let it's unchanged looks fool you because you never know what RIM has up their sleeves if this is indeed the successor to the BlackBerry Curve 8900.
source:
BerryReview
via
Engadgetmobile