T-Mobile says that it will match Verizon's LTE coverage by the end of 2016
47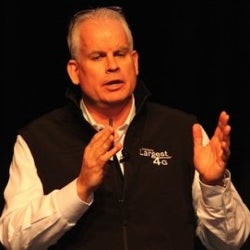 T-Mobile has been a late bloomer, especially compared to Verizon. Big Red already had its 3G network up and running when
T-Mobile launched its first two 3G markets in 2008
. When T-Mobile was about to
launch its LTE network in Las Vegas early in 2013
, some Verizon customers already had LTE service for more than two-years. At that time, T-Mobile was considered an also-ran, the fourth largest carrier in the U.S.
But soon the Un-carrier program would begin and CEO John Legere would transform T-Mobile into an innovative and relevant player in the industry. Now the third largest carrier in the states, the wireless operator has been closing the LTE network coverage gap with Verizon. And by the end of this year, the gap will be completely gone according to T-Mobile CTO Neville Ray. "We plan to materially close the gap [with Verizon] by the end of the year," said the executive. T-Mobile says that its 4G LTE signal currently covers 311 million people, just a few million short of Verizon's 4G LTE coverage figure.
Verizon responded to Ray's comments by releasing a statement focusing on its slight edge in reliability over its rival. "Talk is cheap, and it won't make the nearly 1 million-square-mile gap in LTE coverage -- or the stark advantage in reliability and consistent speeds that VZ's network has over T-Mobile -- disappear," said a Verizon spokesman. Open Signal's report said that Verizon's 4G LTE signal was available 86% of the time making Big Red's network slightly more reliable than T-Mobile's pipeline.
Just yesterday, we told you that the latest report from Open Signal revealed that
T-Mobile has the fastest 4G LTE network in the U.S.
with an average download data speed of 16.28 Mbps. Verizon was second with an average speed of 15.94Mbps. AT&T (12.83Mbps) and Sprint (9.36Mbps) were third and fourth, respectively.
source:
CNET