T-Mobile prepares exciting updates with "Un-carrier Amped"; details coming June 25th
9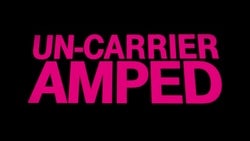 T-Mobile
Un-carrier
touts itself as a stick-it-to-The-Man, rebellious tariff offering perks like data roll-over, free Wi-Fi calling, and many other deals and packages seldom found through rivalling firms. Rather than locking consumers into a two-year subscription and offering flagship phones on-the-cheap as bait, T-Mo has tried instead to bestow flexibility upon its customer base, and after a series of numbered Un-carrier updates, the company appears to have some big plans in place for the future.
Un-carrier looks poised for a major upgrade over the next few days, with T-Mobile having teased a trailer on its YouTube channel referring to "Un-carrier Amped". Playing out a bit like a clip of an upcoming action movie, T-Mo runs us through Un-carrier 1.0 all the way through to 9.0, detailing some of the features that it has introduced along the way. The Data Stash offering with Un-carrier 8.0, for example, has allowed users to roll over their unused data and stock up, something that most would love to see from AT&T et al.
But with Un-carrier already being so awesome -- too awesome for the company to sustain without a near-future merger according to T-Mobile's parent company -- what will Un-carrier Amped bring? The name itself suggests that T-Mo has something very exciting in store, and seems to indicate that what's already available through Un-carrier will be improved upon.
There carrier may decide to add some new stuff, but if not, we wouldn't baulk at any attempt to turbo-boost the current packages. Check out the teaser below, and stay tuned for those details set to be showcased in a couple of days' time: