T-Mobile's Un-carrier 9 offers lower pricing for businesses and some goodies for consumers as well
13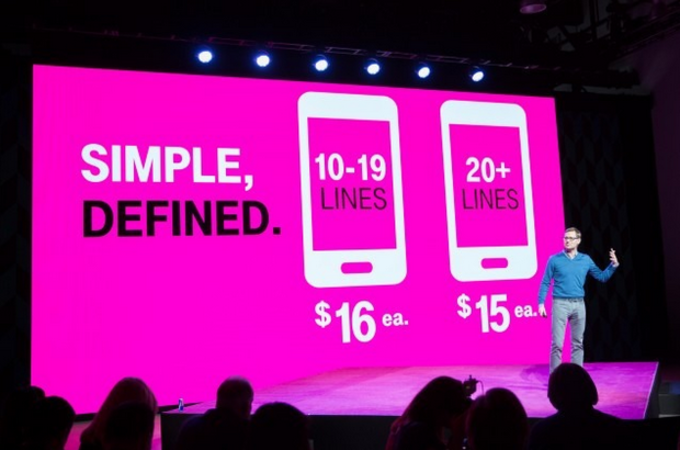 T-Mobile's Un-carrier 9 offers pricing for business customers that is said to be 42% lower than business plans offered by Verizon and AT&T
While T-Mobile's Un-carrier 9 event in the Big Apple was designed for those who populate those tall buildings in Manhattan (meaning that it is aimed at business customers), the innovative carrier tossed some bones to consumers as well. T-Mobile says that all promotional rates and plans that have been in place will be made permanent.
In addition, the mobile operator introduced the Un-contract. This is a promise from T-Mobile that a customer's monthly pricing will not be hiked for two years. T-Mobile also expanded the scope of its "Carrier Freedom" program. Customers who switch to T-Mobile will have their ETF, and leases covered along with the balance left on phones purchased using monthly installment payments. T-Mobile will cover up to $650 per line.
As far as businesses are concerned, Un-carrier 9 offers small companies ten lines for $160. These lines include unlimited talk and text, and data. The data, however, consists of 1GB of the high speed stuff before throttling sets in. When 20 lines is needed, the price drops to $15 a line. At 1000 lines, the price is sliced to $10 a line. T-Mobile says that this pricing is 42% lower than the business plans available on AT&T and Verizon.
T-Mobile also worked out a deal with GoDaddy to provide its business users with a free .com domain and website to users which will help them get online. Businesses that sign up with T-Mobile will also receive a suite of Microsoft services.
CEO John Legere also ran through some interesting data. "
We are 52% faster than Verizon, who is faster than AT&T and everyone is faster than Sprint
," said the executive.
source:
PhoneScoop
,
SlashGear
,
Mashable