T-Mobile offers AT&T customers special deals to switch carriers
27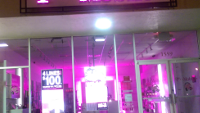 T-Mobile's latest Un-carrier Unwrapped gift is aimed at AT&T customers willing to make the switch to T-Mobile. If you switch carriers, T-Mobile will sell you the 128GB
Apple iPhone 6s
for the price of the 16GB unit. That is a $200 savings. The deal also includes a price break on smartwatches and select accessories. T-Mobile's press release specifically mentions discounts of as much as 50% or $125 on intelligent timepieces, UE Boom and JBL Bluetooth speakers, Beats headphones, Fitbit fitness trackers, and the Guitar Hero Live for iOS bundle.
Customers leaving AT&T's pre-paid brand GoPhone, and its Cricket Wireless pre-paid subsidiary are also invited to join T-Mobile to receive the same deals. Additionally, those leaving AT&T for T-Mobile will be eligible to receive up to $650 per line to cover ETFs. Or, that money can be applied to the balance of a previously purchased phone when you trade-in that device, and purchase a new handset from the nation's third largest carrier. You also will have to switch phone numbers.
"I can already hear carrier customers asking 'What's the catch?' And I don't blame them—because, with the carriers, there's always a catch. But that's not us. And this is our way of showing long-suffering carrier customers exactly how the Un-carrier gives you more without asking more from you. This holiday, give yourself an iPhone upgrade or the amazing Apple Watch, game, audio gear − pick your accessory − and cut the price up to $125 off. It's our gift to you."-John Legere, CEO, T-Mobile
The deal is available starting tomorrow and runs through December 13th. Sign-up by calling T-Mobile at 1.877-413-5903, or visit one of the carrier's physical stores.
source: T-Mobile