T-Mobile myTouch 4G Slide Unboxing & Hands-on
7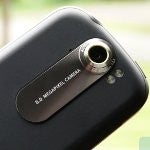 Looking back at it, we've seen very few standouts from HTC's camp that manage to enthrall in the photo-taking category, but nevertheless, we might be on the verge of witnessing their very best offering with the upcoming
T-Mobile myTouch 4G Slide
. Every bit of the successor to last year's model, which really didn't captivate us that much compared to the offerings back then, this one is set to arrive on
T-Mobile's lineup on July 27th for the usual golden on-contract price of $199.99
.
Sporting the usual box design that we've been seeing with most mid to high-end smartphones for T-Mobile, the myTouch 4G Slide doesn't deviate any bit with its flashy and colorful looking one. Prominently on the front, we intricately see the handset's 8-megapixel shooter and camera interface positioned for all to take notice – with the usual brandings littered all throughout its sides. Flipping it over to the rear, we're presented with some useful and pertinent information regarding the handset's specs, but more importantly, we find a dedicated section strictly reserved for its "
advanced camera capabilities
." Inside, there is absolutely nothing out of the ordinary with its packaged materials, which include the usual set of documentation, microUSB cable, and wall charger. Although we're not too surprised with its included accessories, we were hoping to find something packed along related to its camera – still, we can only dream.
Unlike its predecessor, the T-Mobile myTouch 4G Slide looks and feels remarkably
better built all around
with its combinational soft touch feel and tough plastic exterior. Moreover, it's
not as bulky
too seeing that it looks a bit thinner than the original model – albeit, it still packs some
balanced weight
. On the surface, it retains the myTouch 4G's design approach with its characteristic earpiece grill and placement of physical buttons beneath the display. Sliding the display sideways, its
landscape style QWERTY keyboard
is fully exposed and resorts to using a 4-row layout. Looking closely at them, buttons are flat looking and evenly separated from one another – though, they're still distinguishable enough to make out with our fingers.
Gracing the upper echelon of T-Mobile's lineup, this
Android 2.3 Gingerbread
powered smartphone features a 3.7" WVGA Super LCD display, dual-core 1.2GHz Qualcomm Snapdragon processor, 8-megapixel auto-focus camera with dual-LED flash, full 1080p video recording, front-facing camera, HSPA+ connectivity, 1,520 mAh battery, 8GB microSD card, GPS, Wi-Fi, Bluetooth, and Sense 3.0. Needless to say, there's plenty to like about this one, but its most alluring feature is its camera taking prowess. Specifically, its 8-megapixel shooter is touted as having "
zero shutter lag
" – meaning, it snaps whatever you're shooting the moment you instantly press down on its shutter key. Additionally, it goes above and beyond your typical camera phone by offering a bevy of photo options that enhance the experience.
Truth be told, this device is shaping up to potentially be a photographer's dream smartphone. We'll surely be putting it through the paces to see how it performs, but more importantly, we're going to snap an extensive amount of photos with its camera to see where it stands on the totem pole. Expect our in-depth review!