T-Mobile looking to raise money to buy more spectrum
20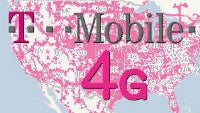 T-Mobile is still in last place out of the big four wireless carriers in the U.S., but it has been making some big moves recently. It's multi-staged Uncarrier movement has helped the company start to add subscribers after a long string of continuously losing customers. Now, it looks as though the company wants to beef up its service by purchasing more wireless spectrum.
According to a report from the
Wall Street Journal
, T-Mobile is looking to sell $2 billion in debt, and has said in a recent regulatory filing that the revenue from the sale could be put to use in a number of ways. But, that same filing also said that T-Mobile is "currently considering an acquisition of spectrum from a private party." This statement is very similar to what T-Mobile wrote in another recent regulatory filing regarding the $1.8 billion that the company had made by selling stock last week.
With about $3.8 billion at its disposal, T-Mobile should be able to pick up a good amount of spectrum, but as yet there is no word on when T-Mobile would be spending the money, or if it is planning to raise even more money first before going through with a purchase.