T-Mobile having Tuesday Twitter Trivia contest to give away 3 free HTC Sensation 4G units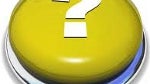 On the heels of its
Father's Day
contest for which it gave away 10 HTC Sensation 4G to 5 winners and their dads, T-Mobile has another contest lined up for Tuesday evening. On June 21st, the nation's fourth largest carrier will be hosting a
Twitter trivia contest
and giving away 3 more HTC Sensation 4Gs.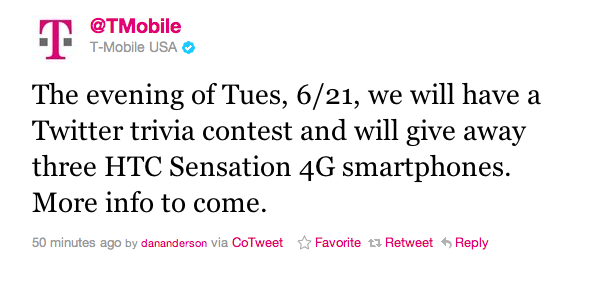 T-Mobile tweeted to announce a Tuesday Trivia contest and will give away three HTC Sensation 4G units
The
format
of the contest is unknown as is the
subject
of the questions that will be asked. T-Mobile, announcing the trivia contest in a tweet, says
more details
will be coming. As soon as we know how the contest will work, we will pass the information on to you. In the meantime, you can spend the rest of the weekend boning up on your trivia. It will be worth it if you end up with a free HTC Sensation 4G, considered one of the
top
Android models currently available.
Just in case you are interested, the winners of T-Mobile's Father's Day contest were announced in a separate tweet from the carrier. T-Mobile selected from its Facebook wall the 5
best photos
of an entrant with his/her dad. The winners are Justin Sterling, Jennifer Gaertman Tolman, Troy Bauman, Noah Furgerson and Ja'Quan Baker. Each won their own HTC Sensation 4G and one for their pop.
source:
TmoNews