T-Mobile "fixes" unexpected roaming fees with new $15 International Talk & Text offer
1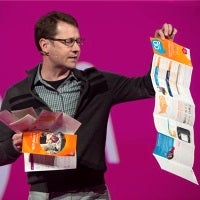 On Feb 23, T-Mobile will introduce anew $15 Stateside International Talk & Text offer that extendsthe $10 plan with unlimited mobile-to-mobile calling from the U.S. tomore than 30 countries, and up to 1000 mobile-to-mobile minutes toMexico.
For comparison, the $10 plan, which will remain on sale, letscustomers get unlimited calls from the U.S. to landlines in more than70 countries, unlimited texting to more than 200+ countries, plus nomore than 20 cents a minute mobile to mobile calling to any number inmore than 100 countries.
The Un-carrier's marketing head, MikeSievert (pictured), says that by adding the new plan, customers in the UnitedStates can now reach "close to 50% of the worldwide cellularphones outside of the U.S. without hassles". Mr. Sievertexplained that the $10 plan was extended so customerscan be "completely confident" that there will be zero extracharges when they are making international calls from the USA.
Untilnow, subscribers had to know beforehand whether they were dialing alandline or a mobile number, which could result in unexpectedcharges. Which, as Sievert puts it, "is not good. It's notUn-carrier." The new offer wants to "fix" this.
The CMO also claims that T-Mo'sunlimited roaming plan, Simple Global, which was introduced lastOctober, has resulted in customers making "three times morecalls, texting four times as often, and using 20 times more data"when they travel abroad. He is keen to point out that, so far,competitors "have nothin'" on this, a statement that willsurely make CEO John Legere grin.
source: T-Mobile