T-Mobile dropping "America's largest 4G network" tagline in ads, bets on Carly on a Ducati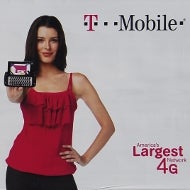 Danielle Hopcus, spokesperson for T-Mobile, has confirmed for Fierce Wireless that the carrier has indeed dropped the "America's largest 4G network" tagline in its new ad campaign that started July 10.
That claim now goes to AT&T, which covers 250 million with its HSPA+/LTE network, whereas T-Mobile's covers 215 million. Verizon claims "the fastest" 4G network, whereas T-Mobile now emphasizes on
Carly zipping down America's backroads in a Ducati
, and counting cell towers to show how expansive T-Mobile's network is.
Danielle Hopcus returned the following statement about the current state of network affairs:
With the breadth of T-Mobile's nationwide 4G network well established, we recently moved to a network claim that reflects the network's performance and reliability, particularly with the $4 billion investment we're making and recent accolades like the PC Magazine Fastest Mobile Networks Test, which showed T-Mobile's 4G network to be very competitive with current LTE networks.

T-Mobile became the first nationwide 4G network and began using 'America's Largest 4G Network' in marketing more than 18 months ago. Since that time, competitors have worked to catch up as we've continued to expand and strengthen our 4G network. We don't care to debate these last few POPs, and the numbers are constantly changing.