T-Mobile cuts prices on phones?
This article contains unofficial information.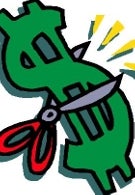 A tipster for Tmo News is telling them that T-Mobile is getting out the trusty old scissor and is cutting prices on a variety of handsets. Keep in mind that to get these prices, you must sign a 2 year contract. The new price on the BlackBerry Bold 9700 will be $129. The BlackBerry Curve 8520 will cost you $79.99. $99.99 will get you a Sidekick LX 09 while an HTC Touch Pro2 will be $269.99. Three handsets are being offered for a price of $149.99: The Motorola Cliq, The Samsung Behold 2 and the Samsung Memoir. The T-Mobile Dash 3G has a $49.99 price tag and the inaugural Android device-the G1-is now $99.99. The limited edition Fender myTouch 3G will be $179.99 subsidized and $449.99 off contract. All of these handsets do not have a rebate involved. The Samsung Comeback is $49.99 after a $50 mail-in rebate and a 2 year contract. Was anyone out there planning on getting one of these devices?
sources:
TmoNews