T-Mobile customers to receive free MLB.TV and At Bat Premium subscriptions valued at $132.98
14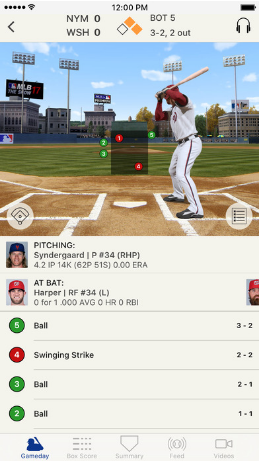 T-Mobile subscribers get a free year of At Bat Premium, valued at $19.99
If you love Baseball as much as we do, you'll really be excited about next week's T-Mobile Tuesday. All T-Mobile subscribers will get a one-year subscription to MLB.TV Premium. That's like catching a Giancarlo Stanton blast barehanded while sitting in the left field seats. The subscription is valued at $112.99! And with T-Mobile One, you'll be viewing each game for free in 720p. All out of market games will be available for your viewing pleasure on your compatible device.
The free subscription to MLB.TV Premium comes with (hold on to your chewing tobacco) a free subscription to the best sports app available. We're talking of course, about
At Bat Premium
. With the app, you can hear every pitch of every game delivered by the home team's radio crew, or from the visiting team's play-by-play announcers. Other freebies offered on April 4th include a free VUDU baseball movie rental, and a $2 promo gift card from Dunkin' Donuts.
The big Grand Prize for the week is a trip to Miami from July 9th through the 12th for the MLB All Star Week. The game this year will be played at Marlins Park. Even if the temperature hits 100 degrees outside, it is a comfortable 72 degrees inside the dome. Other prizes include $50 and $100 MasterCard gift cards that can be used toward the purchase of MLB gear.
To grab the free MLB.TV subscription, T-Mobile customers need to claim the giveaway by April 5th before 2:00am PDT. They next need to sign up for MLB.TV Premium before 2am PDT on April 11th. After downloading and installing the At Bat app from the App Store or Google Play Store, games can than be viewed live.
The MLB.TV subscription and the At Bat Premium app subscription have a combined value of $132.98. And if you're not a T-Mobile customer, it is not too late to put yourself into scoring position. Visit T-Mobile's website (T-Mobile.com), or take a trip to the nearest T-Mobile location.
source: T-Mobile