T-Mobile continues to rip AT&T in full page USAToday ad on Tuesday
26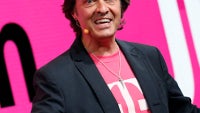 Is it just us or does anyone else hear Eddie V.'s amazing solo on Van Halen's
Jump
every time you read about T-Mobile's new upgrade plan
. Just because the one-time successor to Eric Clapton is now best known as Valerie Berinelli's ex doesn't diminish his accomplishments on the six-string. Meanwhile, T-Mobile is taking it to AT&T again on Tuesday, with a full-page ad in USA Today calling AT&T's
Next
upgrade plan
calculated, sneaky and underhanded
.
If you're not sure what all the talk is about, it seems that AT&T is making you
pay twice for a new phone that you don't even get to keep
. We pointed that out last Tuesday. AT&T's plan has you continuing to pay a monthly service price that includes the subsidized price of a phone that you are also paying monthly for. Last Tuesday, in a tweet, T-Mobile CEO John Legere related how he couldn't believe that AT&T didn't cut its service price to account for the monthly payment you are already making on the handset. The executive quickly become one of our favorite hashtag wits by tagging his tweet
#asktheschoolkids
, making fun of AT&T's widely seen television commercials.
"AT&T's new upgrade program makes you pay the full cost of your phone in addition to you monthly service agreement, which already includes the subsidized cost of the phone. But with T-Mobile's JUMP!, you can upgrade when you want, not when you're told. Upgrade up to twice a year, if you want, after just 6 months in the program. And you can save more than $50 a month compared to AT&T."-
Full page ad run by T-Mobile on Tuesday
AT&T is probably not going to take this lying down, so you can expect a response from the nation's second largest carrier soon.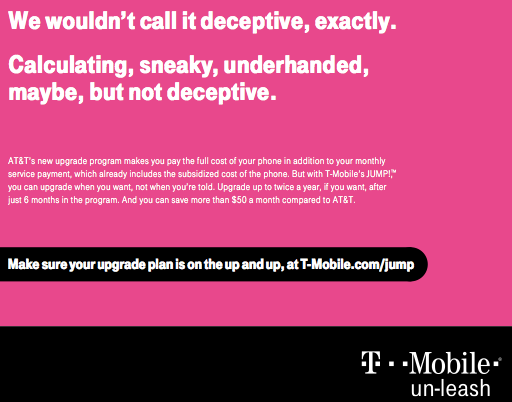 T-Mobile's full page ad in Tuesday's USA Today doesn't mince words
source:
TmoNews