T-Mobile announces new low price plan: 4 lines, 10GB of data for $100
76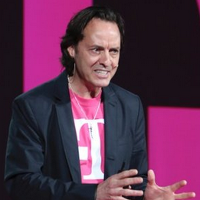 T-Mobile continues its reputation as being the most consumer-friendly of the four major stateside carriers. Today, the company announced a new Simple Choice plan that starts this Wednesday, July 30th. The plan offers four users unlimited talk, text, and 10GB of data for $100. Where's the catch you ask? Instead of sharing the 10GB of data among the four members of the plan, each will be allowed 2.5GB of high-speed data. That means that if you sign up for this plan, you can't count on some of the members being more data-frugal than you are, to make up for your data use. The plan is available through 2016, and includes the carrier's free music streaming feature available for certain music streaming apps.
T-Mobile has taken the competition's four lines for $160 offers and has applied its usual Legerian math to make them irrelevant. Consider that the mobile operator is the only one of the four majors that won't charge a customer for going over his data cap on these four line plans. AT&T and Verizon start the meter running after 10GB of data is consumed, while Sprint's Framily plan starts counting overage dollars when each member exceeds 1GB. If you exceed your individual 2.5GB of data on the T-Mobile plan, the worse thing you suffer is slower data speeds.
As T-Mobile CEO John Legere points out on the company blog this morning, T-Mobile's plan saves customers $1440 over two years. But don't expect the others to sit back and take this punch. Surely there will be a response from the other three.
It is a deal like this that have many consumers wondering about the rumored
Sprint purchase of T-Mobile
. Will that transaction end the age of pro-consumer actions that we have come to expect from T-Mobile?
source:
T-Mobile