T-Mobile and AT&T agree to swap spectrum
19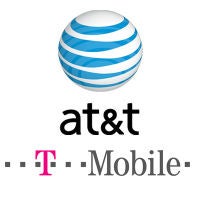 AT&T and T-Mobile have never had a friendly relationship really. But, after AT&T tried (and failed) to buy T-Mobile, the companies have had a history of swapping spectrum to create more contiguous spectrum blocks and to fill in gaps in T-Mobile's coverage. Well, the two companies are at it again with a new agreement to swap more spectrum.
FCC filings show that AT&T and T-Mobile have agreed to swap PCS and AWS-1 spectrum licenses in various markets, including Boston, MA; Hartford, CT; Phoenix, AZ; Minneapolis-St. Paul, MN; Tulsa, OK; Sacramento, CA; and Austin and San Antonio, TX. The carriers say the swap will "enable more efficient operations by creating larger blocks of contiguous spectrum and aligning spectrum blocks across markets."
The move is pretty clear for both sides, because contiguous blocks of spectrum allow the carriers to strengthen Wideband LTE offerings in various markets, which should provide more capacity and speed for customers.
The two sides have agreed to trade equal amounts of spectrum, but the entire deal needs to be approved by the FCC before it becomes official.